The latest version of WhatsApp Plus 6.55 which can offers lot of new features. You can download Plus Donation application from Amazon App Store which is required to unlock the premium features of WhatsApp Plus. Recently Plus Donation was removed from Google Play Store and we can provide any download link of WhatsApp Plus. Please note that WhatsApp Plus is an UNOFFICIAL and modified version of WhatsApp Messenger in order to have some customisation features. So if you are using WhatsApp Plus, then you are under your own responsibility, as it is a third party app and has no connection with WhatsApp Inc.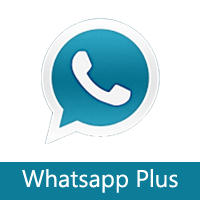 WhatsApp Plus features theme support, hide online status (only in unlocked version), complete backup, custom colors, custom headers, backgrounds etc with a single click. You can find all these option under the PLUS menu. WhatsApp Plus also has its own widget in addition to official widget. As the name suggests, WhatsApp Plus includes all the features that are offered by WhatsApp, plus some other customisation features which will improve your chatting experiences with your friends.
You can also share the theme you have made by customising various aspects of the applications, similarly you can use the themes made by other people just with a single click. You can also save your theme for future use, so you don't have to worry about losing your customisations after updating the application. WhatsApp Plus is based on the latest official WhatsApp Messenger that is available in whatsapp.com/android.