Now Android phones are all about material design. Google has made the material design universal and all the applications are getting more colorful and materialistic. So here we have found a free weather widget which has some nice customisation features with material design. This widget application is new but the developer is working very hard to make it more perfect. The name of the application is Material Weather Widget. You can find this application in Play Store and can download it for free.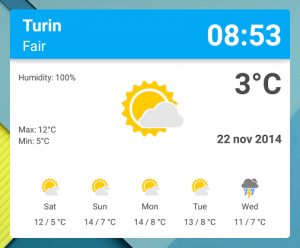 The application is mere 1.5 MB in size and has a very clean interface with easy navigation for customisations. The only drawback is that the application provides all the material features in Android 5.0 only. So if you are running Android 5.0 or 5.0.1 Lollipop, then this a must have weather widget application for your Android phone. Material Weather Widget provide following three different size of widgets:
4 x 2 widget
4 x 1 widget (2 different types)
4 x 3
We can change the background colors or make it transparent. Most of the parts of the widget are customisable according to our need, theme and wallpaper. The weather in the widget gets updated in every 30 minutes if there is an internet or data connection available in the phone.
Download Material Weather Widget From Play Store