If you are tired of ads between any video, any site or you are tired of those license verification in android market, there is an app for you by Chelpus named Lucky Patcher.
What does it exactly do?
Lucky Patcher is one of a very useful application which removes ads, modify Permissions, to break some Android market app license verification and more which is indeed of a great help to those who get annoyed by those silly, nagging ads and those big permissions shown if you want to download any app from Android Market.
Download Lucky Patcher APK File (Latest Update)
| | |
| --- | --- |
| Application Name | Lucky Patcher |
| File Name | lucky-patcher-6-5-8.apk |
| Version | 6.5.8 |
| File Size | 5.89 MB |
| Updated On | 30 August 2017 |
Download Lucky Patcher APK for Android
What's new in this update:
Rework uninstall for non-root users (Now use "uninstall for all users" for correct install rebuild apps).
Custom patches updated.
Translations updated.
Bugs fixed.
Features of Lucky Patcher
Remove ads: Free apps on android market are often accompanied by advertisements which may prove to be a great disappointment when it slows down your internet speed also if you are using 3G it sometimes may cost you with a few bucks so after all these complications with these trivial ads you'll be finally able to get a real break from these ads by using this app.
Customized patch: Some apps come with some locked features for which you have to download some premium key to unlock it. For these apps, Lucky Patcher is of great help as it helps you in downloading the app without downloading premium or pro key. Also, the procedure is custom patching that means you don't have to patch it manually instead it replace original code with some other code and this unlocks the app automatically.
Remove license verification: Some apps demand license verification, usually, the apps outside the Google Play are the one which demands license verification, Lucky Patcher provide aid to overcome this problem by removing this license verification. However, there is a drawback that it doesn't work for all the apps.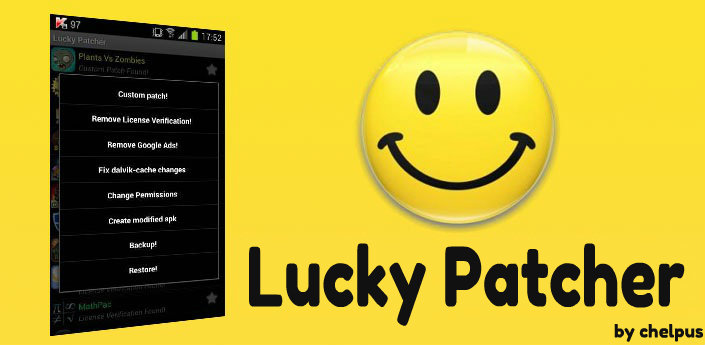 New features
A completely new feature offered by Lucky Patcher is that it allows the purchase of hack in apps. Many other apps are also available in the market which allows these purchases but they have some or the other risk involved but with the Lucky Patcher app the risk is reduced significantly or we should say the risk is almost zero so there is nothing to worry about.
How to install?
Using Lucky Patcher app is easy which one of its advantages is also as the process is not so complicated. Just follow some minor steps:
First of all the device should be rooted if you want to use the app. Download the APK file and install Lucky Patcher app, go to the app whose app in purchase is to be hacked
A popup window will appear with a question whether you want to use the app for free select yes and you are done with the process.
To apply custom patch
Open the Lucky Patcher app, grant root access, select the app you want to apply the custom patch in view custom patch list in Lucky Patcher APK. If available, select the custom patch and apply. After a couple of minutes open your app and you are done with the patching.
Remove ads
Open Lucky Patcher and grant root access. Select "block advertisement on device" wait for some time and all your ads are removed.
Remove license verification
Open Lucky Patcher, grant root access. Select the app you want to remove license verification. Select open menu of patches and click on remove license verification, select auto modes and apply the patch.
Please note that this post is only for educational purpose and we did not encourage users to use any hacking or system modifying application that is not covered by the policies of Google Play Store. Please proceed at your own risk.

Review
The Lucky Patcher is wonderful of you are annoyed with all those advertisements, license requirements and more, it takes care of these trivial elements in the simplest way and is easily available and easy to download. The only problem which comes with it is that it is only available for rooted devices, which means if you have a non-rooted device either you'll have to get it rooted or you are disabled from using the app. Therefore on whole, the app is fine and one should definitely give it a try but yes only if you have got a rooted device.
Key features of 6.3.9
Patch for some apps on Android 4 fixed.
Custom patches updated.
Bugs fixed
What's New in Lucky Patcher 6.3.8
Fix show ads activity.
Translations updated.
Bugs fixed.
What's New in Lucky Patcher 5.5.6
FC after rotation fixed.
FragmentDialogs to Dialog reworked for more stability.
Minor bugs fixed.
What's New in Lucky Patcher 5.5.7
Translations updated.
Custom patches added.
Icon by "[email protected]" added.
Bugs fixed.
Download Lucky Patcher 5.5.6 APK – Mediafire Link
Download Lucky Patcher 5.5.7 APK